Importing Opti Intermediate, Opti open etc into TopYacht – OTB
Importing  Opti Intermediate,  Opti open etc  into TopYacht
Where you wish to utilise sub fleets eg Opti Open and Opti Intermediate, please let TY staff know this when setting up your event.
Then a few days before you need to import the entrants, go into the TES Hcer Menu and press the relevant Series PHS button.

Then, on the HCer screen set the sub fleet label in the DIV NO column.  See example below where boats have been allocated to either Open or Inter  Optimist.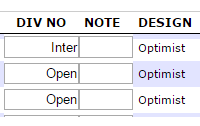 Now in TopYacht….
Make sure you have a class entitled  "Optimist Open" and one "Optimist Inter". Do this with Standard mode >> Maintain >> For the Master List – Update Class Data.
When setting up the group use the Class on ET template and name the group 'OTB'.
Now, set up the special entrants' importer as follows…
Admin >> Database >> User Registration

Set the download address as below.
http://topyacht.com.au/db/otb/excels/ty/get_ty_split_class_ents.php
Use 6a as normal to import the entrants.
To further enhance this you can pre-set the class for this series in TY with Standard mode >> Maintain >> For This Series: Edit Divs in Series.  Add the relevant class in here.