Crew Dec's with I2R
TopYacht crew options for Keelboat racing
Background
Our options fall into four main groups.
TopYacht provides several facilities to record a list of persons or number of persons on board for a particular race day.
No Crew
Intention 2 race – Are you racing & how many POB do you have for this race.
Inshore Crew/crew decs – List of crew includes; names, contacts details and Next of Kin information for all persons on board for this race. This has some options that you can use to customise your reports. [POB 40 or 42]
Offshore Crew – List of crews with Cat 1, 2 or Cat 3x level information recorded for each sailor on board. [POB 50 or 60]
Option 3 – Inshore Crew/ Crew Decs [POB 40 &42]
Widely used for club racing, or events within a series where sailors may change crew race-to-race. Designed for Inshore events, up to Cat 3 Not intended for Cat 1 & 2 use.
Details are boat based and only updateable by the boat skipper/contact.
Collects crew detail (name emergency contact details, club member number, day pass number, PLB and/or other info) on a race by race basis
The skipper can add crew members to their boat for a race. This is done quickly and easily via a smart phone or any Web enabled device.
The skipper can come back at any time and tick/untick who is "On Board"
Once a week (one minute after midnight Monday by default) the list of who is "OnBoard" each boat is logged and then the "OnBoard" tick box is automatically un-ticked.
This data is then accessible at any time to the club administration.
This also can be used as a sign on/off system with day and time variable set to limit when folks can sign on/off.
Ability to use the Intention @ Race functionality where Skipper can tick if they are or aren't sailing in the 'next' race NOTE: this sued the races as set-up in TES (add/amend races) if there are no upcoming race then this option will not be present.
Crew Decs allows you to collect day pass numbers but does not currently allow the purchase of day passes; but this can be done through TES.
Easy link for club admins to send out each week http://tymob.net.au/1234   [1234 = your TES event ID]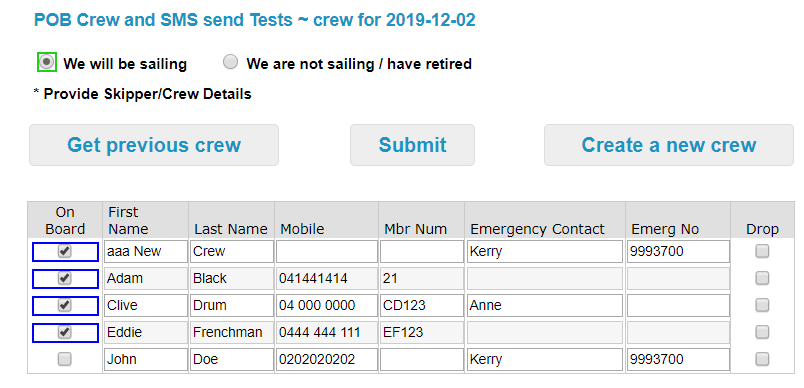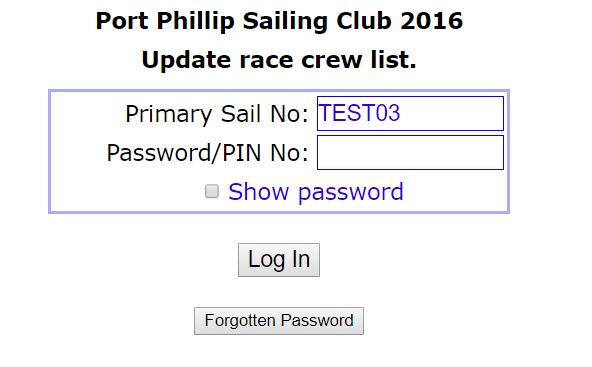 TES – Persons On Board ~ Race Crew ~ Crew Declaration
This functionality allows the boat owner to list crew members for their boat on a race by race basis. The crew list is separate for each Series, so a boat can potentially have different crew members in different Series.
Crew are added as part of the entry and/or via the mobile friendly web link provided for each boat.
For each race the owner ticks off those who are "On Board" for this race.
For each new Series the owner can select from previous crew members and/or add new crew members.
The "On Board" crew are logged by TES and then crew are reset to 'not On Board' every Monday night at midnight. The owner then adds relevant crew for the next race.
The club admin can download a report for the current race up until midnight on the following Monday and/or a permanent log can be accessed on a race by race basis via a season long log which can be viewed/searched by the club admin at any time.
The data stored for the crew members can vary but at the most basic it is…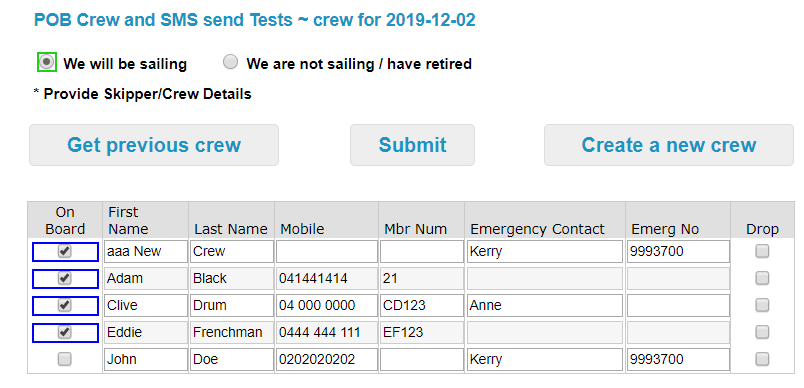 Additional fields can be added, BUT as the aim is to make this mobile phone friendly, it is sensible to keep the fields to an absolute minimum.
The same screen can be accessed via any Web enabled device including smart phones.
For example…
http://tymob.net.au/1234   [1234 = your TES event ID]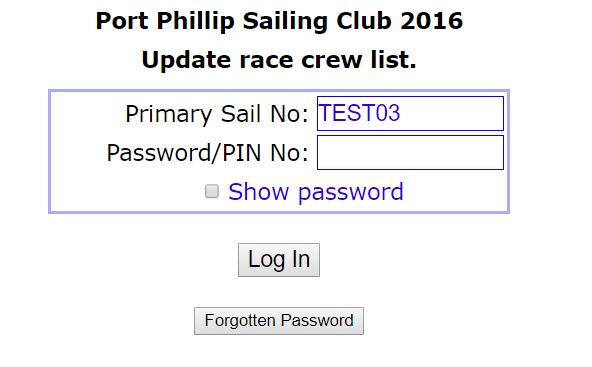 Which offers you the series you have entered for this Event.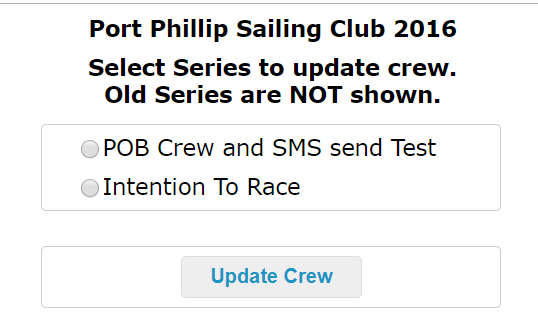 Once the Series is selected you can update the POB.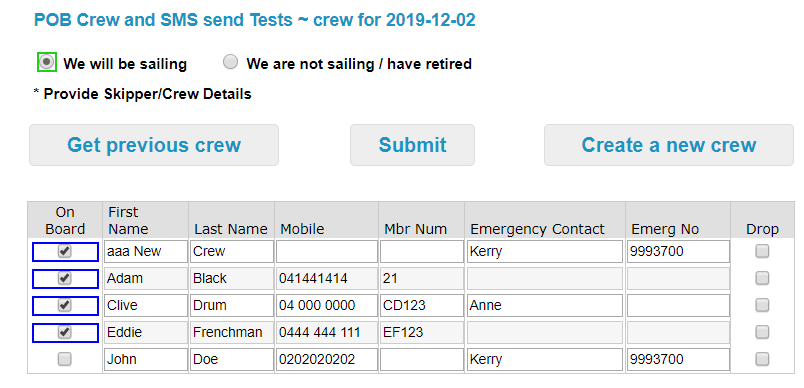 Important note:
This can also be accessed with Member Point. See memberpoint.com.au
Accessing Crew Declaration data
Simplified view
Menu sequence   Club Menu -> Entrants -> Crew Decs Ro View
This will only show if there is a TES casual race added for the current period/week.
Crew Decs RO View lets you know which boats have done a crew dec for this period, the crew count (POB) and if they are racing or have retired aren't sailing.

Detailed view
Menu sequence   Club Menu -> Entrants -> Crew Decs
 Each Tuesday morning at 1 minute after midnight the data is flushed. Unless set to a different day by the club. This means the crew declaration data is logged and the "on board" tick removed for all crew in all Series.
Current Data
To see who has put in a crew dec after the most recent flush:
Select the relevant Series,
Select the Current Data check box, then
Press the Submit button that appears.
This lists all boats who have ticked one or more crew as being "On Board" for that race.

 Historic Data
To see who has put in a crew dec over a particular period of time:
Select the relevant Series,
Select the Current Data check box,
Select a Date Range, then
Press the Submit button that appears.
 Data Display
If there are large amounts of data, you can restrict the number of lines on the page with "number" drop-box.  This is at the far right of the screen-shot below and shown set at 100.

The navigation arrows in the screen-shot above allow you to move through the records if there is a large number to display.
 You can set a date range then filter on a boat by typing the boat name in the search box at the top of the data table "Boat Name" column.
Similarly you can filter on an individual person to see how often they raced over a given period of time.
Excel reports
You can also download current data by way of an excel spread-sheet. It is one of the Reports accessible by clicking on the relevant Rep icon eg Rep1 for each Series.
 This shows ALL crew associated with the boat for this Series and also whether on not they were on board for the current race