Using the TY-Res system for handicaps & raw results
Background
One of the key things the keelboat clubs have been seeking is results data stored in an on-line database that the club can then access for several different purposes.
This is currently a work in progress but is a major undertaking. The initial step is to get all keelboat clubs to start uploading their results into a common web based database.
This will provide full handicap data for your club HCer(s) to access on line AND adjust HCs for the next race, online.
In the future this will enable us to provide additional facilities such as…
Data for the Rotating Results screens for Club use. [currently available] – View HERE
API access to results data to create club specific results pages driven by your club Web developers.
Results direct from that database rather than then needing to be hosted by you web provider.
Cross club/events results data to enable club/event handicappers to look at the relative performance of a visiting boat. Thus replacing the previous cross club HC database.
Further, we hope this will eventually provide a TopYacht wide HC boat reference point.
The relevant things to confirm – failing to do this may destroy your TYResults data!
There must be a one to one relationship between the TY DB and the TES event ID
There must be the correct Event ID on the User Registration page.
There must be a unique DB Number on the User Registration page for that DB Year.
The various TES interaction links must be pointing to /kb/ not /aus/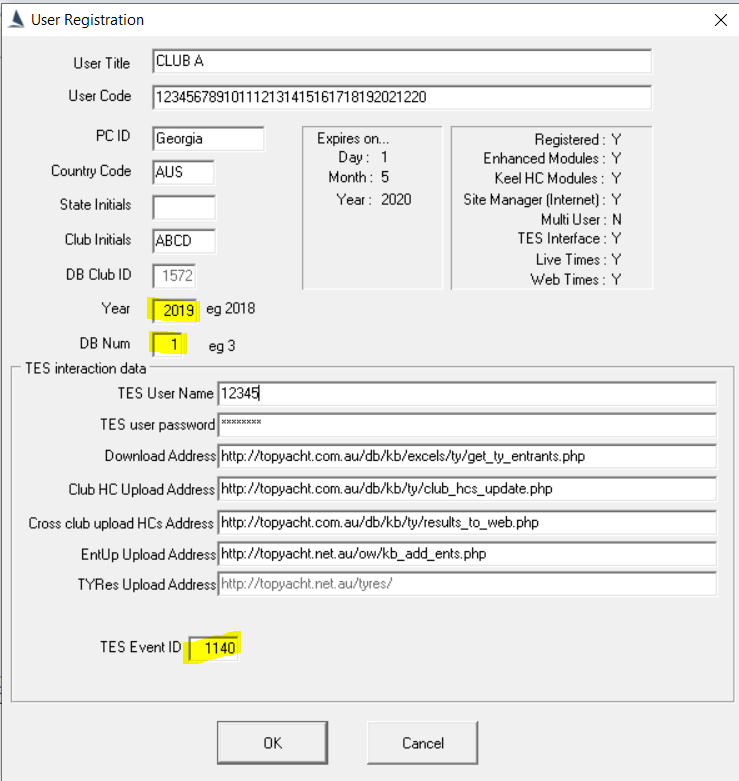 Club Overview Matrix
 Raw results
https://topyacht.net.au/tyres/Controller/ReRoute.php?m=1&c= xxxx
Where C=xxx is your club ID
 Handicap Data
https://topyacht.net.au/tyres/Controller/ReRoute.php?m=2&c=xxxx
Where C=xxx is your club ID
 How to get the data to the web
The upload process has been automated to make it as simple as possible:
There are two ways you can do this:
#1 When you select "Internet" and press the print button. This functions as usual and at the same time data is also sent to the TY Results database.
 
#2 If you don't want to print the full results to the web as yet but you do want to send preliminary data to tyres; OR

if you don't wish to publish these results to the club's web site at all.

You can use the small green button on the `view race results` screen to just send data to tyres – Note you'll need to use the green button on each group (there is not an ALL groups option)